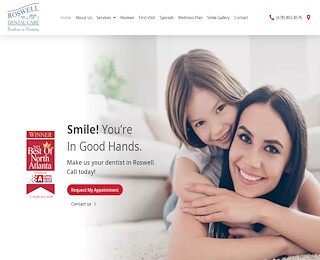 Are you looking for affordable dental care in North Atlanta? Roswell Dental Care is a trusted dental clinic.  Our dentist, Dr. Remaley, has been voted Best Dentist in North Atlanta for four years in a row. Contact us to schedule an appointment today.
What Services Do We Offer?
We offer a comprehensive list of services. Our dedication to helping you meet your oral health goals and those of your family. For your convenience, there is a pediatric dentist next door and an orthodontist upstairs. Your dental care is in one building. Our affordable dental care also saves you time.
We offer the following preventive dental services:
- dental exams
- cleanings
- fluoride treatments
- Oral cancer exams
- sealants
- mouth-guards for sports, and TMD night-guards
We offer the following cosmetic dentistry services:
- Porcelain
- crowns
- bridges
- inlays/on-lays
- Veneers
- gum sculpting
- bonding
- Botox and dermal fillers
- Tooth-colored fillings
Other services we offer are:
- teeth whitening
- Nitrous oxide
- hard and soft tissue laser
- Implants
- partial dentures
- All-on-44 implants bridges
Not all the services we offer are listed, and we do much more. Our goal is to make you comfortable, and your dental appoints easy.
What Can I Expect At My First Visit?
Our goal and our number one priority is to make you feel comfortable and at home in our office. We will provide you with individualized care. We will take the time to review your personal dental and medical history. Gathering your personal information will help us to suggest treatments that are correct for your situation.
You can save time by filling out our online forms before you arrive. If you prefer to fill them out in our office after you arrive, please allow a few extra minutes to do so. When you see your registered dental hygienist for the first time, it will take a little longer than subsequent appointments. We will take detailed measurements of gums and access the health of your mouth. Then we can help you improve your oral hygiene routine you use at home if required. 
We will take diagnostic x-rays, checking for tooth decay, tumors, bone loss, and cysts. We also make a note of your tooth and root positions. You will receive a comprehensive oral exam, checking for tooth decay, and cancer. We will also review to make sure that any previous dental repairs are still intact. 
Your oral hygienist will clean your teeth, (remove plague and tarter). The plague can be removed at home by daily brushing and flossing, but once it hardens and turns into tartar, only your dental hygienist can remove it. Your teeth will receive a polishing that removes minor stains, and if necessary, you will receive a fluoride treatment.
How Do I Pay For My Dental Care?
We accept most insurance policies, but if you don't have insurance, we can help. We offer the Roswell Dental Care Wellness Plan. Our plan is designed to help you and your family have access to affordable dental care. Contact Roswell Dental Care today and schedule an appointment. We want to be your dentist and provide compassionate, high-quality dental care.
Roswell Dental Care
(770) 998-6736
1570 Old Alabama Rd #102, Roswell, GA 30076
View Larger Map