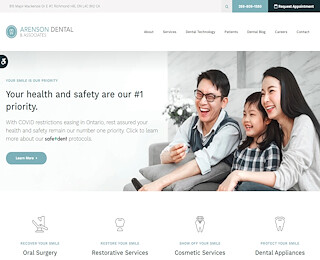 Did you know dentists can replace missing teeth in a way that looks and feels more natural than dentures? The newest treatment option is called implant dentistry and is considered the most advanced method of restoring smiles when one or more missing teeth are involved. If you've been considering dentures, there are numerous reasons why you should look into dental implants in Richmond Hill, ON.
Why Choose Arenson Dental For Implants?
We believe implants are the right call for many of our patients since the results are far superior to those associated with dentures and dental bridges. While both of those options can improve the form and function lost through missing teeth, the reality is that implants do a better job in that regard.
Implants look, function, and feel like your natural teeth- something everyone can agree is a significant benefit. You'll smile with greater confidence knowing that your implants look identical to your teeth in every way.
Additional Benefits of Dental Implants
With proper care, implants can last a lifetime, making them the best overall value in options to replace missing teeth
Implants prevent bone loss associated with loss of teeth
Implants do not compromise the structure of adjacent teeth, as is the case with tooth-anchored bridges
Since implants function in the same way as your teeth, you won't have to 'get used to' wearing them
With implants, you'll speak naturally, therefore slurring of words is not an issue
You can eat all the foods you love- with no limitations or restrictions
Mini Dental Implants in Richmond Hill, ON
A further advancement in dental care allows you to take advantage of same-day 'mini implant' treatment. It may come as a surprise to learn about two-hour implant placement in our office, with zero downtime between treatment and eating with your new teeth.
If you're apprehensive about the costs involved, you'll love how the affordability of 'minis.' Mini implants cost a fraction of what conventional implants cost and offer all of the same advantages you may have read about here or on the Web. Schedule a new patient appointment at Arenson Dental to learn whether you're a candidate for treatment.
A Beautiful New Smile in One Day
Smile with all the confidence that comes from having teeth that will not slip and the peace of mind knowing that you'll never have to take your teeth out at night. Implants are an excellent option when looking into treatments to replace missing teeth- one you'll be glad you chose.
Join the half-million patients who opt for dental implants every year and stop worrying about what other people think when you smile. Call Arenson Dental or schedule a consultation visit with our staff if you'd like to learn more about dental implants in Richmond Hill, ON. We'd love to answer your questions and send you home with additional information to think over and discuss with your family. If you decide treatment is right for you and wish to proceed, feel free to schedule an appointment for implant treatment.
Dental Implants Richmond Hill
Arenson Dental & Associates
9057703000
815 Major Mackenzie Dr E 7, Richmond Hill, ON L4C 9X2
View Larger Map